Workshops
Exploring Stability & Mobility: A Joint Health Workshop for Yoga Teachers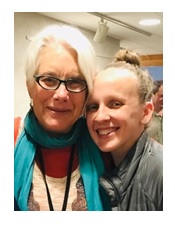 Instructors: Janice George, (LISW, E-RYT500, PYT, certified iRest yoga nidra facilitator and Ayurvedic Lifestyle Consultant) and Sat Puran (E-RTY500, CYT and Ayurvedic Practitioner)
Saturday, January 19, 2019
3 hours for Yoga Alliance CEU's 
Location:  Equivita, 1510 Hess Street, Columbus, Ohio 43212
Time: 2:30 – 5:30pm (Samyoga Institute Alumni Potluck to follow 6-7:30pm)
In today's society, a person's joints are being stressed more than ever. A popular belief in our culture is that joint issues "just happen" with age, but in reality, a person of any age can experience joint problems, and the truth is, as we age, we don't have to suffer joint problems.
In this workshop we aim to support teachers in the integration of yoga and ayurveda for joint health by addressing the anatomy and mechanics of hips, knees and shoulders as well as examining the biomechanics of daily life. Participants will also explore the connection between the koshas and joints and discuss considerations that can be made in the case of joint replacements.
Investment: $55 ($50 for Samyoga Alumni)
To register by mail:
Samyoga Institute
1510 Hess St.
Columbus, Ohio 43212
To register by credit card:
---
Restorative Yoga Workshop
Instructors:  Connie Phillips (E-RYT500) and Sat Puran (E-RYT500, CYT and Ayurvedic Practitioner) are offering this Master Class workshop on teaching and experiencing restorative yoga.
Saturday, February 16, 2019
3 hours for Yoga Alliance CEU's 
Location:  Equivita, 1510 Hess Street, Columbus, Ohio 43212
Time: 2:30 pm – 5:30 pm
Restorative yoga is a deeply healing practice in which the body is fully supported by a variety of props. When the body can fully relax, the mind can begin to quiet as well. During this deep state of relaxation, tension is released, allowing the toxins that may have become stored-up due to physical and energetic blockages to be discharged. Restorative poses are effective for both acute and chronic conditions, offering benefits to the body and mind. According to Judith Lasater, "Restorative Yoga calms the nervous system, brings deep relaxation and alleviates health problems caused or worsened by stress."
In this workshop you will learn the principles of restorative yoga, including appropriate sequencing and how to prop each pose. Participants will personally experience a restorative practice to better understand its complexities and healing properties.
Space is limited so that participants can be fully immersed in the restorative yoga experience.
Investment: $55 ($50 for Samyoga Alumni)
To register by mail:
Samyoga Institute
1510 Hess St.
Columbus, Ohio 43212
To register by credit card:
---
STEPHANIE LOPEZ: IREST® YOGA NIDRA LEVEL 1 TRAINING
This incredible training developed over 30 years by Richard Miller PhD, iRest Yoga Nidra Meditation supports psychological, physical and spiritual health, healing and awakening. It is facilitated by Stephanie Lopez and co-sponsored by Samyoga Institute and Yoga on High.
HOW IT WORKS
iRest is an accessible and easy to use meditation protocol that is integrative, as it heals unresolved issues and traumas, and restorative, as it aids practitioners in recognizing their innate wholeness and underlying peace of mind that is always present amidst all changing circumstances in life.
Research has shown that iRest effectively supports health and healing across a broad range of populations, including those experiencing PTSD, chronic pain, sleep issues, high stress, depression, and anxiety.
In the Level 1 Training, you will learn:
The core principles and practice of iRest meditation.
How to use iRest for your personal practice.
How to teach and deliver iRest simply, and effectively in group and individual settings.
Following the Level 1 Training, you will:
Join a global community of practitioners who are teaching iRest in yoga studios, sleep clinics, rehabilitation and healthcare facilities, hospitals, hospice, prisons, universities, schools, as well as in private practice.
Be able to list yourself on the IRI website as an iRest Level 1 Teacher.
Be able to access our "Teacher Resources" and our "Teachers Community Network (TCN)" for further personal and professional support.
Be recommended by IRI to people seeking iRest teachers in their local area.
PLEASE NOTE: In order to receive a certificate of attendance designating you as an iRest Level 1 Teacher you must arrive on time every day and attend all training sessions.
REQUIRED reading and listening:
RECOMMENDED reading and listening:
DATE(S)
*Please plan to arrive at 7:15am on Wednesday, February 13 to complete registration.
Wednesday, February 13, 8:15am-6:00pm
Thursday, February 14, 8:30am-6:00pm
Friday, February 15, 8:30am-6:00pm
Saturday, February 16, 8:30am-6:00pm
Sunday, February 17, 8:30am-12:30pm
COST
$1495 early bird through January 2, 2019, $1595 thereafter (Includes a comprehensive manual and a Level I Training audio download.)
LOCATION
Yoga on High
A $350.00 cancellation fee is included in the cost. No refunds will be given within 60 days of the workshop.