Workshops
Exploring Stability & Mobility: A Joint Health Workshop for Yoga Teachers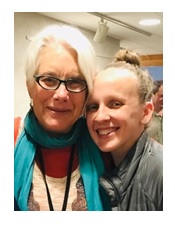 Instructors: Janice George, (LISW, E-RYT500, PYT, certified iRest yoga nidra facilitator and Ayurvedic Lifestyle Consultant) and Sat Puran (E-RTY500, CYT and Ayurvedic Practitioner)
Saturday, January 19, 2019
3 hours for Yoga Alliance CEU's 
Location:  Equivita, 1510 Hess Street, Columbus, Ohio 43212
Time: 2:30 – 5:30pm (Samyoga Institute Alumni Potluck to follow 6-7:30pm)
In today's society, a person's joints are being stressed more than ever. A popular belief in our culture is that joint issues "just happen" with age, but in reality, a person of any age can experience joint problems, and the truth is, as we age, we don't have to suffer joint problems.
In this workshop we aim to support teachers in the integration of yoga and ayurveda for joint health by addressing the anatomy and mechanics of hips, knees and shoulders as well as examining the biomechanics of daily life. Participants will also explore the connection between the koshas and joints and discuss considerations that can be made in the case of joint replacements.
Investment: $55 ($50 for Samyoga Alumni)
To register by mail:
Samyoga Institute
1510 Hess St.
Columbus, Ohio 43212
To register by credit card:
---
Restorative Yoga Workshop
Instructors:  Connie Phillips (E-RYT500) and Sat Puran (E-RYT500, CYT and Ayurvedic Practitioner) are offering this Master Class workshop on teaching and experiencing restorative yoga.
Saturday, February 16, 2019
3 hours for Yoga Alliance CEU's 
Location:  Equivita, 1510 Hess Street, Columbus, Ohio 43212
Time: 2:30 pm – 5:30 pm
Restorative yoga is a deeply healing practice in which the body is fully supported by a variety of props. When the body can fully relax, the mind can begin to quiet as well. During this deep state of relaxation, tension is released, allowing the toxins that may have become stored-up due to physical and energetic blockages to be discharged. Restorative poses are effective for both acute and chronic conditions, offering benefits to the body and mind. According to Judith Lasater, "Restorative Yoga calms the nervous system, brings deep relaxation and alleviates health problems caused or worsened by stress."
In this workshop you will learn the principles of restorative yoga, including appropriate sequencing and how to prop each pose. Participants will personally experience a restorative practice to better understand its complexities and healing properties.
Space is limited so that participants can be fully immersed in the restorative yoga experience.
Investment: $55 ($50 for Samyoga Alumni)
To register by mail:
Samyoga Institute
1510 Hess St.
Columbus, Ohio 43212
To register by credit card: